When planning a trip, it is ESSENTIAL to pin point exactly where the ice-cream will be, that's why here at Kickin' Back we've mapped out the best of Kelowna's creamy treats! After an exciting, fun day on the boat the perfect way to cool off is ice cream.
So, when the time comes to dock and explore the land, we have two convenient boat docking options located at the Hotel Eldorado Marina (rates) as well as the Downtown Kelowna Marina there is moorage available with a free Drop-Off Zone with no Tie ups, $5 for 30 mins or less, 10$ for 1 hour and 5$ for each hour (after first hour).!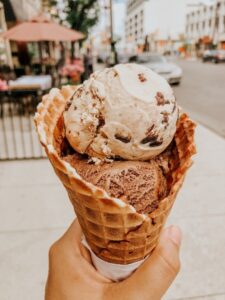 Now back to business, if you choose to dock at the Downtown Marina you will be greeted with a bowl full of ice-cream shops you might just have to stop at every single one! Along the water there is a variety of ice cream shops such as;
Moo Lix located on Bernard Avenue has over 40 unique flavors, fresh waffle cones and over 20 years in the business.
Parlour Ice Cream, with some of the best prices on the water front and hand batched ice cream is a great option for a hot day on the water with Kickin' Back, located on Abbott Street!
If you're feeling fancy Amore Mio Gelato is right around the corner, with natural authentic flavors and wide range of flavors located on Bernard Avenue!
While strolling along the waterside you will notice a lush, green park, this is Kelowna City Park and Hot Sands beach which offer sports areas, amazing suntan opportunities, public washrooms and good times.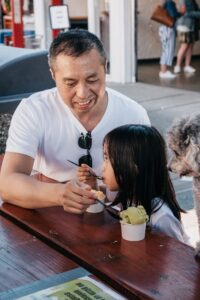 On the other hand, if you scoop into the Eldorado Marina and you want to stretch your lake legs for a short walk along the water you will reach the familiar flavor of the Marble Slab Creamery located on Lakeshore Road!
For a little bit of a longer walk and passion for frozen yogurt you can take a scenic walk to Tru Frozen Yogurt located on Pandosy Street in Sopa Square!
While adventuring to your desired ice cream delicacy you will be assured of running into beautiful, sandy beaches with lush greenery and plenty of benches, parks and activities. Such as Rotary Park, and Boyce-Gyro Beach Park which offer amazing times – no matter your age!
Now if Parks and beaches aren't really your thing you can always bring the ice cream back to the relaxing Kickin' Back boat and enjoy your ice cream on the water, under the sun or under the shade thanks to the Bimmi covers.
Ice cream is a great addition to a Kickin' Back day!