The Okanagan is known for its many vineyards, brilliant views, outdoor adventures and most importantly the amazing lakes that surround the region.
During the hot summer days people spend their times boating, hiking and relaxing on the beautiful local beaches. Kickin' Back Boat Rentals offers a wide variety of boats for the sports enthusiasts, thrill seekers or those looking to just hang out on a large, spacious pontoon. We want to make sure you have the best time out on the water while exploring the Okanagan.
Here are just a few tips to enjoy your experience in the Okanagan.
Beautiful Calm Mornings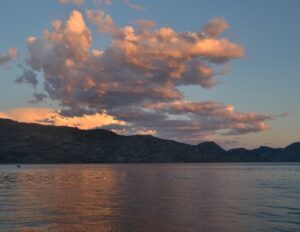 Many people forget about the beautiful mornings the Okanagan has to offer, with the calm waters and pleasant weather. It is always less crowded during the early morning, which can make your experience much more enjoyable. Avoiding the busy day time traffic, the calm mornings provide you with the chance to spend some quiet, quality time with your family and friends. What's better than enjoying that hot cup of coffee in the peaceful, fresh morning air?
As an added bonus, it is so much easier to get parking at the boat launches and there is much more space. Remember, the Early Bird Gets the Worm! Always make sure you dress for the weather, and pack your sunscreen, snacks and refreshments before you head out for the day. Kickin' Back Boat Rentals offers some great discounted morning prices!
Explore the Area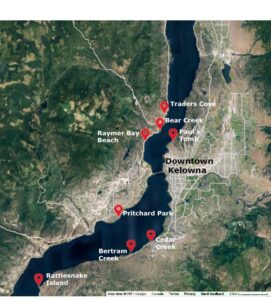 When renting out a boat, it gives you a brand-new way to explore the area. You can head out to Raymer Bay Beach that has a beautiful sandy beach, a playground for the kids, picnic area and a grassy field for some fun games in the sun. There are also some buoys available for the general public that you can connect to while exploring the park.
Bear Creek Provincial Park not only has sandy beaches but a hiking trail with stunning views at the top. Just north of there, you can check out Trader's Cove Regional Park which has 2 amazing sandy beaches, a great picnic shelter, playground, a swim area, and some buoys for your boat. If anyone is up for an adventure, you can also head south to Rattlesnake Island. This large island contains a small beach and is also known to be home of the famous lake monster Ogopogo!
Pritchard Park is located south west of the lake which contains washrooms if anyone in your group is looking for a quick stop. There is however, no place to tie to, but there is a dock that can provide a quick drop off and pick up. It also has some great shady spots, and a volleyball court with a playground for the kids. A great place for both adults and kids.
Coffee & Dining on Water Street

Along with the amazing morning boating experiences, take the time to walk down Water Street and grab a cup of coffee from some local shops such as Pulp Fiction, Blenz Coffee and Bean Scene Coffee Works.
There are many restaurants down Water Street such as Water Street Grill, OAK + CRU Kitchen & Wine Bar and a favorite by many, Cactus Club Café. After being out on the water, it's great to go get a bite to eat or get a refreshing beverage before your next adventure.
There is moorage available at the Kelowna Marina with a free Drop-Off Zone with no Tie ups, $5 for 30 mins or less, 10$ for 1 hour and 5$ for each hour (after first hour).
Sightseeing and Hiking Spots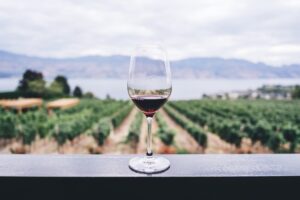 The Okanagan has some very interesting sightseeing spots to check out. Any wine lovers can head out in the evenings to Mission Hill Family Estate Winery or Quail's Gate for some savoury wine tasting.
The best hiking trails are all over the area such as Knox Mountain Park with the Apex Trail that has a length of 4 km and an elevation gain of approximately 300m. Paul's trail begins at the Knox upper parking lot and goes gently down along the slope of the Okanagan. It is one of Kelowna's most popular hiking spots and great for the whole family.
The Kelowna Mountain Suspension Bridges has the most incredible views from the vineyards, the lake and so much more. Fintry Falls is a beautiful spot just north from West Kelowna. It is a 2 km one-way hike with an elevation gain of 40m. It's totally worth checking out the beautiful waterfalls.
We can't wait to here about your adventures! Come on back here and let us know what your favorite spot was on the Okanagan!